Four Pillars Gin Spirits Lifted with Headless Tech Stack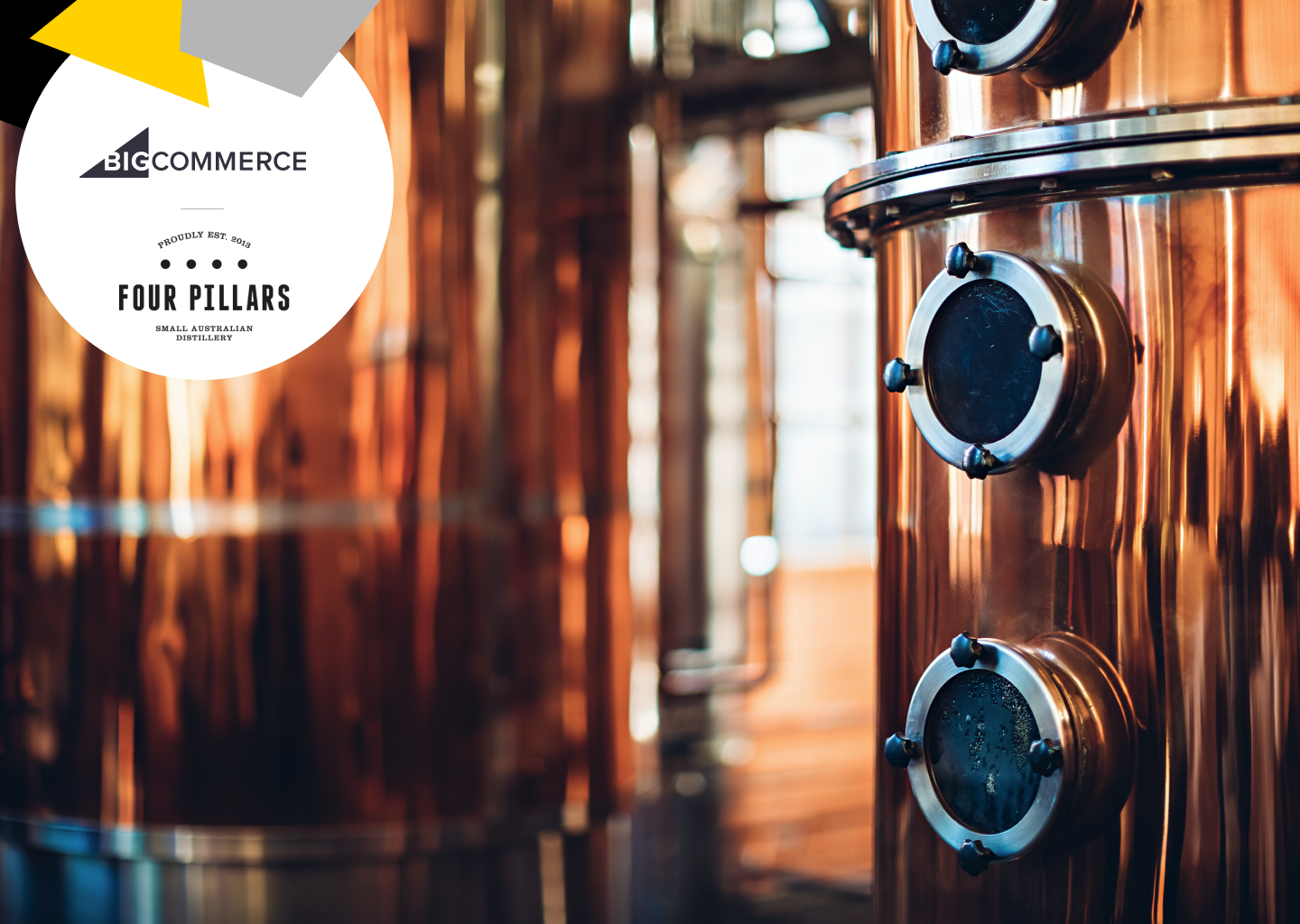 There's nothing like knowing who you are and what you're meant to do. It's true in life, and as Four Pillars Gin Co-Founder and Brand Director, Matt Jones, would agree that it's true in business as well.
"We are not a retailer. We are a brand that sells," Jones said. "And, what we sell is gin. We don't get up everyday asking ourselves how we are going to streamline shipping or how we are going to work efficiently with a freight partner. That's not all we're about. We are about the craft of making gin and bringing people closer to the craft."
Jones is serious about the art of making quality gin and made from gin products. So much so, he immersed himself into learning more about it while traveling the west coast of the United States.
From Seattle, Washington down to Los Angeles, California, Jones and his team visited 30+ craft distillers that were part of what he calls a contemporary and progressive distilling movement. "We came back totally charged up to make gin that was distinctive, highly creative, truly expressive and delicious with all the flavor possibilities Australia offers," Jones said.
Four Pillars launched in 2013 and since have made upward of 20 different gins using top grains and aromatic and flavorful botanicals like orange, juniper, pepperberry and lavender. The company's winning combinations in gin creation earned them the honor of International Gin Producer of the Year two years running (2020 and 2019).
Searching for a Solution to Help Tell the Four Pillars Story
Four Pillars first delved into the digital space through its use of Pozible, a crowdfunding platform. The team wisely used the pause waiting for equipment and supplies to come in as a time to build awareness, get people onboard and even sell a little gin before the business officially launched. And even though Pozible stood in as a proxy for a website, using it and social media, Facebook and Instagram, worked in helping Four Pillars understand the power of having its own digital commerce space.
"Pozible and social media helped us see these third-party platforms as being only as good as the destination you're pushing people towards," Jones said. "Social media is a place where you recruit fans and followers and build and engage a community, but there needs to be a destination for people to go to. That destination is our website where we deliver valuable content in the form of a well-told story."
From Pozible, Four Pillars graduated to a more traditional ecommerce platform with Umbraco serving as the platform's content management system and Tea Commerce powering the back end. It was the first official ecommerce platform where Four Pillars began to tell its stories. Turns out the stories were good, but not so much the platform. They needed to expand to something that would provide them the freedom to create what they wanted.
"The content management system morphed into a Frankenstein kind of thing that connected into a stack of disaster on the back end where fulfillment and shipping were affected," Jones said. "We worked that way for five years without getting our arms around just how big the opportunity was in the digital space."
A Headless Tech Stack Provides the Perfect Solution
It was late 2018 when Four Pillars realized any future growth required a full website overhaul to make it a destination that people wanted to go to. The new site needed to:
Be fun, colorful and hospitable
Provide an elegant balance between high-functioning ecommerce and users' expectations
Have intuitive qualities in its navigation
Effortlessly enable people to add spontaneous items to their carts
Have the creative ability to tell a brand story
And, Jones had a lot to say about it:
"We could not allow our site to become a retail platform that's all about conversion and not about immersion. So, we decided right out of the gate to build on a specialist ecommerce platform because we didn't want to go down the same path again of building a commerce site with commerce inspiration. We wanted to build on a commerce platform.
Our goal was to find the right partner to help us strike the perfect balance between brand experience, storytelling and world-class, future-proof, scalable ecommerce. We wanted to build on top of a platform that looked absolutely like Four Pillars' brand experience rather than something that had more of a templated feel to it."
Four Pillars opted for a headless solution and in doing so became one of the first companies in Australia to use a BigCommerce headless implementation, alongside a headless WordPress implementation with a Javascript (VueJS) front end layer on top of both.
"We are using this structure to get the best of both platforms – using Wordpress for a rich custom content experience, and BigCommerce for an efficient transactional ecommerce experience," said Paul Green, Four Pillars Website and Ecommerce Manager. "The separation of the display layer also gives us the flexibility to create a brand experience which fits with our other brand assets and real-world, in-person customer experiences at our tasting labs and distilleries."
"The key thing we're getting from BigCommerce is the flexibility from its open APIs. It gives us the ability to build what we have with WordPress and extrapolate from it to do more innovative things that we probably wouldn't be able to do with just an ordinary, more rigid platform," Green said.
Overdose, the digital commerce agency that built Four Pillars website, played a pivotal role in ensuring ecommerce was not relegated to the end point of the customers' experience, but the entry point. "The site is built so you can choose your own adventure and in the process not get lost in the site. What Overdose created enables us to offer a romantic sense of seductive brand storytelling to draw people in and bring them closer to the craft," said Jones.
Headless Generates Outcomes That Move the Business Forward
Four Pillars has built an extremely engaged audience, both online and in person. Whenever a new gin is released or one of its eight, count them, eight Cyber-Mondays during any given year takes place, a massive spike in customer traffic is guaranteed. Its new headless tech stack has proven to be highly scalable, evidenced by processing an ever-increasing order volume without falling over.
Four Pillars' success with customers is evident in the growth in traffic, conversion rate and transactions, with increases of 22%, 79% and 152%, respectively.
"For us to do what we do, ecommerce has to be simple and effortless and that's what we really valued in the shift," Jones said. "Our headless website has not only improved the experience for our customers, but there's been a level of simplicity that as we look to do things to incentivize and enhance the shopping experience, it hasn't been burdensome on our team. Instead they have been sort of elegant and straightforward for our team."
Elevating the Craft and Drawing People to It
Future possibilities for Four Pillars include same- and next-day delivery and a click and collect option allowing customers to buy online and pick up in the store.
What is for certain is that Four Pillars will continue to build its customer relationships and business through the art of storytelling and the craft of gin making.