David Hartery, Content Lead, Talon.One
Not only for the Players: Gamification in Food Apps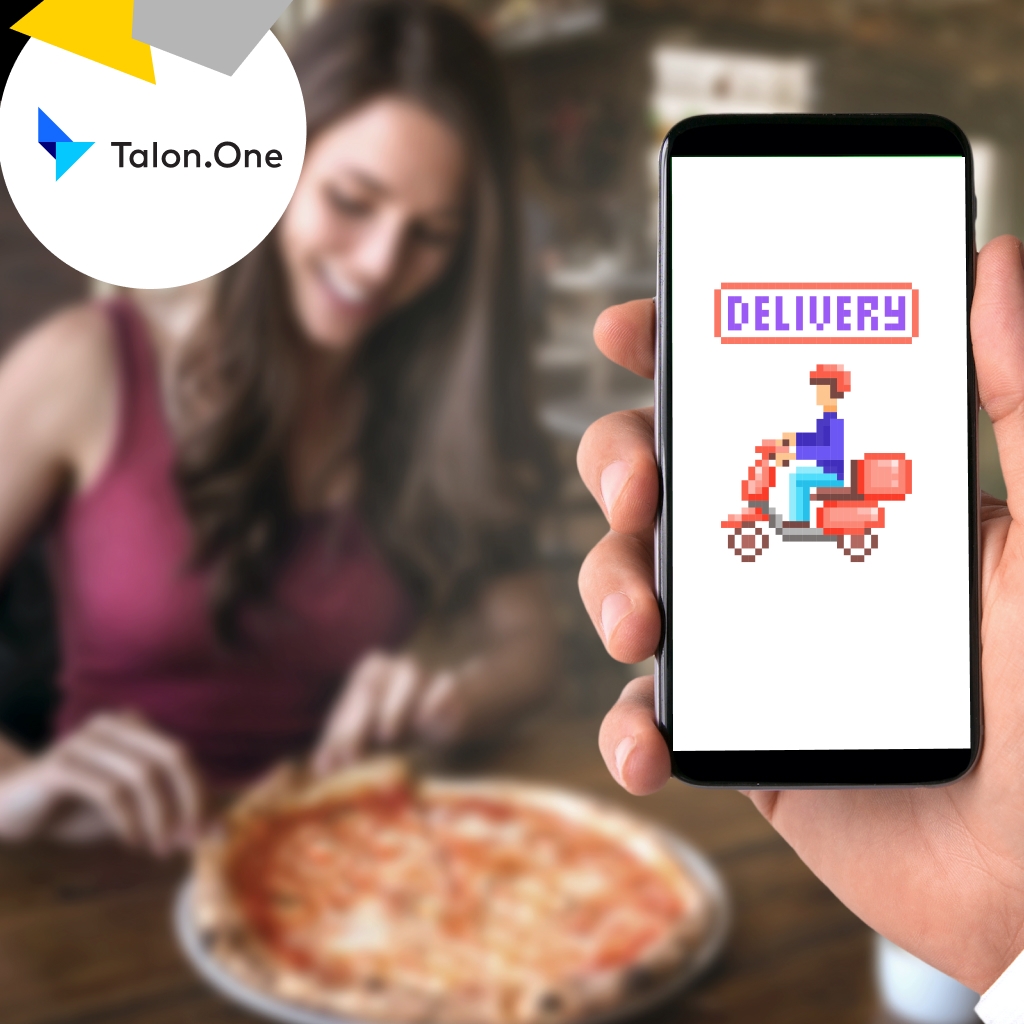 Gamification in the Food & Beverage Industry can be a powerful tool to improve customer conversion rates, reduce banner blindness and ensure ongoing consumer loyalty. Plus, the results are hard to ignore. The Pizza Hero app, by Domino's Pizza, increased sales revenue by 30%.
Here's how using a headless, composable approach can give your business the tools it needs to put gamification at the center of your growth strategy — at every level of the funnel.
Promotions funnel for food apps
Firstly you need to examine where gamification can be added. By splitting the customer journey into stages, you can work out how to evaluate success at every level, while seeing how gamification can nudge users down the funnel.
You can also evaluate what composable SaaS tools are appropriate for the use cases in each stage, and strategize how they can work in tandem to meet your goals.
In this example funnel, we've split the user journey into four stages: Install, Sign Up, Purchase and Engage. This encompasses the journey from initial acquisition, to their initial engagement, purchase and eventual retargeting. Gamification can supercharge your performance in each of these stages. And with a MACH approach, it can dovetail neatly with the rest of your stack.
A Demand-Gen survey found that 93% of marketers who tried the tactic, later described themselves as 'loving' gamification. This is particularly true in the engagement phase — only 70% of those surveyed felt that static, non-interactive, content was engaging for customers.
They also found:
81% of marketers say interactive content drives more attention.
88% of marketers surveyed planned to switch 10-30% of their material to interactive content.
70% of marketers believe interactive content drives customers to convert.
The current market value for gamification in North America alone is already at US$2.72 billion. And worldwide these numbers are estimated at US$11.94 billion.
Here's how to apply that philosophy at each stage.
Customer acquisition
A headless approach is the easiest way to compound quick wins via gamification. When you've built out your user onboarding flow, adding additional features can be done modularly, with additional flourishes added as you start to see results.
Whether that's using sign-up offers in your initial advertising creative that provide increased benefits each day for users that log-in for the first seven days, or targeted promotion codes that can be shared when users visit a specific in-store location — adding additional features is as simple as sharing the API calls that each event triggers anyway. The beauty of the MACH approach is that each process is designed to work neatly with each other, so the same event can trigger multiple tools to work in tandem, providing complex and rich results.
This can lead to compounding benefits, especially from a social perspective. Gamification encourages your users to share your app with their friends — generating installs from their social group. For example, Indian food app Swiggy publicised their 'Match Day Mania' discount deal and encouraged people to share deals on social media and messaging apps, particularly Telegram.
SEA e-commerce app Lazada offer their 'Slash It!' discount, where users can receive a discount if they can get enough friends or contacts to sign-up to 'Slash' an item. By creating these user-swarms around certain discounts, they create a buzz that incentivises more users to sign up for the scheme — and hopefully, later convert to paying customers.
This user-generated content is a smart way to increase brand awareness and give users a chance to celebrate the offer they've found with friends and family.
Mark Mears, CMO of American fast-casual chain Schlotzsky's, says the purpose of gamification is two-fold: acquisition of new loyalty program members and deeper engagement of those members.
"We want to engage customers on an emotional level," explains Mears. "The idea of gamification and social media sharing has become its own sport if you will. People have a chance to share their scores with their friends, and compare and contrast who is doing well and not well and there's a psychic benefit to that."
Mears says thousands of users who signed up to play their unique gamified food app have shared their results on social networks, making them ambassadors for Schlotzsky's within their circle of influence.
Sign up
A simple way you can improve sign-up rates is to introduce elements of gamification. This can be as little as providing a progress bar through the sign-up steps, to more creative solutions such as creating tiered reward systems that are only available to registered members. 75% of consumers say they are likely to make another purchase after receiving an incentive.
Again, the MACH approach makes introducing these gamification elements much easier than having to build one from scratch — or hoping your monolithic system supports your use case. As the user signs up and creates their customer account, you can easily associate that user with defined actions — and add tools that automatically reward certain behaviours, send notifications at the right time or serve up the perfect product display page tailored to their interests.
With tools to log actions, tools to reward actions and tools to inform the users promptly and attractively, it's easy to create specific and dynamic communication flows that push users to convert — and keep converting.
Uber rewards give registered users one point for every dollar spent on POOL & Uber Eats, two points for every dollar invested into UberX and three points for each dollar spent on their premium service.
The tiers are divided into Blue (0-499 points), Gold (500-7499 points), Platinum (2500-7499 points) & Diamond (7500 points and over).
At each tier you reach, you'll unlock features intended to improve the overall experience of using Uber services, like flexible cancellation, priority support, free Uber Eats deliveries or price protection between favourite destinations.
By gating these attractive features behind loyalty, you can encourage engaged users to convert more frequently and reduce the perceived cost of each individual action, since the future reward benefit is priced into the calculation.
Star pupils
Starbucks makes gamification work for them in the 'purchase' phase of the funnel using "My Starbucks Reward". In 2012, the program had 4.5 million users, and that number had increased to 16 million active members by 2019, with Starbucks attributing 40% of their total sales to the rewards program.
The loyalty program is pretty simple from a technical standpoint, but the concept is very powerful and fully on-brand. Every time customers use their Starbucks loyalty card or mobile app to buy something they earn stars. And stars can be used to unlock exclusive rewards like free drinks, cake on your birthday, early access to new products or discounts on your favourite products.
Shaking up engagement
Coca-Cola's Shake campaign ingeniously played on the fact that 'Coke' is similar to the Mandarin word 'Chok', which is used to describe and criticise a sort of artificial posing that is popular on social media sites and among celebrities. The same characters in Mandarin have the double meaning of 'forceful shaking'.
Coca-Cola created ads that played on this double meaning and also created a tie-in mobile app.
The campaign consisted of a television commercial that allowed people to shake their phones at the screen to catch different rewards such as mobile games, discounts, and sweepstakes entries. Viewers had to launch the Coca-Cola Chok App and shake their phones during the Coca-Cola commercial. The video was also played in theatres, outdoor spaces, and on YouTube.
Creating a campaign like this using a monolithic approach involves a huge up-front investment to build out the full technology stack for all the required features. However, with a headless approach, the different elements are decoupled and are easier to set up.
Why is gamification so powerful?
Reward psychology 101:
Gamification taps into basic psychological principles, such as the natural attraction to intrinsic and extrinsic rewards. What are they? Intrinsic rewards are personal successes that originate from within you (completing tasks, personal development, recognition, status, access). Extrinsic rewards amount to external recognition of your value (loyalty points, gift cards, money, merchandise, discounts).
Extrinsic motivation is attractive in the short-term, because it includes superficial gains such as money, fame, power and avoiding negative consequences. But intrinsic motivation is ultimately more satisfying for us, because it creates genuine happiness, satisfying our basic psychological needs for autonomy, competence, and personal development.
Gamification is powerful because it uses both, giving you both the satisfaction of completing a task or progressing within the 'game' while also giving you tangible benefits such as discounts or promotions.
What elements do food apps need to create gamification?
Common gamification elements include points, timers, badges, rewards for interactions and tiers or levels to show customer progression.
Mini-games are also a great incentive to return and can be collaborative or competitive activities with rules and scores.
HappyFresh Rewards is a great example of a grocery delivery platform with incredible gamification elements.
They use a combination of point collection and loyalty tiers that unlock unique benefits. In the app, users collect badges, win prizes and unlock point boosters as they make their purchases. The key benefit for HappyFresh of the headless, composable approach is that they were able to set up this rich system in just one month. This underlines how development time and costs are massively reduced when you turn to the MACH approach.
Flash Coffee has points, 'challenges' and daily deals to encourage users to return and collect rewards. By making the daily coffee order into a game, they encourage users to keep coming back and spending more. The key benefit Flash Coffee found in the MACH approach was how it future-proofed their gamification strategy. Over time Flash Coffee have refined and expanded their features, starting with the essential aspects and adding gamification to more elements over time.
They now have a robust gamification-first development process, which has seen them grow their user-base and revenue with data-led, measurable improvements.
Another great example of gamification in unusual places in app is the Wolt delivery app. Wolt have a hidden minigame, where users can tap the delivery timer — and if they can tap the timer faster than the Wolt record, they're rewarded with a coupon. This turns a point of potential frustration for the user (waiting for their delivery to arrive) into a fun lighthearted experience and improves their relationship with the app. This underlines how gamification can be included at all levels of the customer journey and improve outcomes in unlikely use cases.
Conclusion
By considering gamification at all points of the user journey you can improve conversion and drive better relationships with your customers. Companies that have introduced elements of gamification have seen big results — it's never too early to start adding gamification to any promotion, brainstorming or product strategy meetings going forward. By utilising a MACH approach you gain the flexibility to introduce and iterate on successful strategies — giving you the freedom to be more creative in how you build your product and free your marketers to be as ingenious as they can be.