Santa Monica Seafood Leverages Headless for DTC Success
Santa Monica Seafood Leverages Headless for DTC Success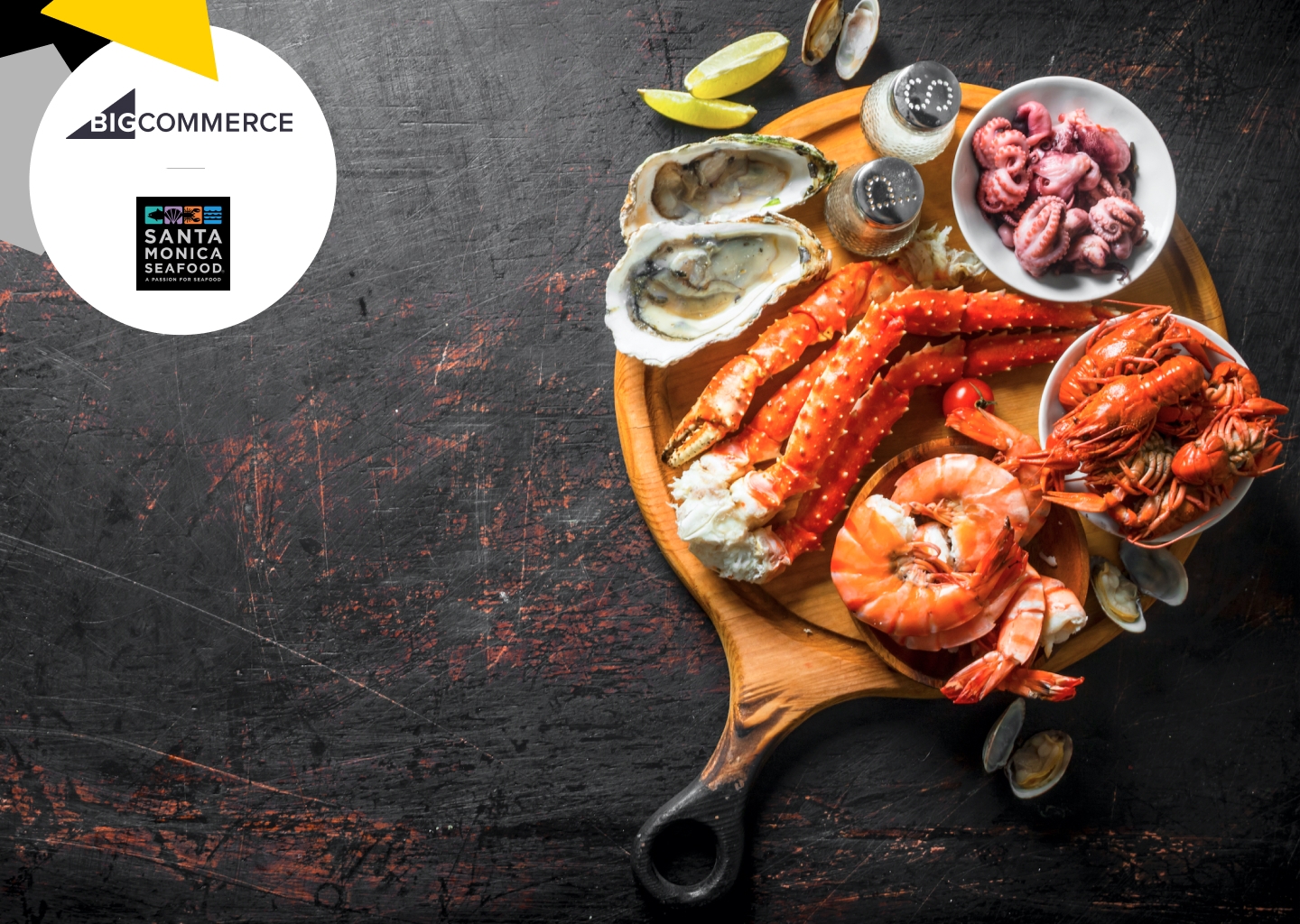 Business is booming for Santa Monica Seafood, a top seafood distributor in Southern California. But the company doesn't look the same today as it did at the start of 2020, when the COVID-19 pandemic made waves among the local restaurants, caterers and retail grocers Santa Monica Seafood had loyally served for decades.
Declining revenue was not unique to Santa Monica Seafood. Last year, revenues for the fishing and seafood industries declined as much as 19% to 45% and sales at restaurants, fast food locations — crucial customers for seafood distributors — fell as much as 27%.
In response to this decline, the team at Santa Monica Seafood took a deep breath and a closer look at its burgeoning e-commerce presence. Where corporate wholesale connections were slowing down or pausing indefinitely, was it possible that consumers would be interested in bringing the bounty of the sea home to cook themselves?
As it turns out, DTC was a blue ocean for Santa Monica Seafood, and customers quickly took notice of its new e-commerce offerings.
Over a period of months, the company adopted the BigCommerce platform and implemented a headless CMS that offered customers access to hundreds of seafood products. The headless configuration provided just the right combination of robust functionality, capacity for scale and no-code front end to help Santa Monica Seafood spin up a profitable direct-to-consumer business and address its three biggest priorities through the pivot:
Selecting and uploading the product mix onto the e-commerce store.
Responding to customer feedback for product selection, packaging and fulfilment options.
Deploying a headless CMS to seamlessly combine content and commerce.
Selecting and Uploading the Right Product Mix
Expanding e-commerce operations required Santa Monica Seafood to assess its existing product mix and identify the best opportunities to connect with the DTC audience. Easier said than done, as the company brought some nuance into the situation: Many of the products would still be active for corporate wholesale operations, requiring multiple sets of SKUs for each product.
"Before leaning into this new audience, we were balancing many buyers and many suppliers," said Alfredo Chavez, Ecommerce Director at Santa Monica Seafood. "The BigCommerce platform enables us to work with these separate SKU sets, which number in the thousands,
while maintaining a clear database of what's in stock, what's heading out the door and what's on its way."
Once the products were loaded onto the website, the marketing team at Santa Monica Seafood quickly realized the value of a no-code front end, which allowed it to create, edit and experiment with products and offers without pulling the IT team away from critical back-end work.
Khai Vuong, IT Director at Santa Monica Seafood, found Page Builder functionality to be crucial for enabling the marketing team to customize the customer experience and brand presentation.
They could create and maintain content throughout the pandemic while allowing the IT team to focus on the approaching migration to a new enterprise resource planning (ERP) platform.
For example, on the marketing side, Chavez has found it so simple to create product pages that he's been able to take the lead in experimenting with potential product offerings. Most recently, he put up a site page with a smoked sturgeon offering and was amazed to see the interest in the form of customer clicks. Alternatively, he listed caviar and found there was not a lot of interest.
"Before, we would buy a new product and see if we could sell it, which introduced a lot of risk to those decisions because I'd have been stuck with selling that caviar at cost," Chavez said. "Now I can test items to see if they get attention and make a purchasing decision based on real data, avoiding expensive experiments."
Responding to Customer Feedback and Applying Insights
While Santa Monica Seafood saw potential in growing its small, existing e-commerce footprint, the team wasn't exactly sure what form that growth would take because there was a lot to learn about the audience. Their headless system allowed for the most flexibility and creativity in responding to the customer base along the way.
"In the seafood space, we're all fishing from the same ocean," Chavez explained. "Our differentiation as a brand has to come from how we get the product to our customers — the safety and quality of the product, the experience of shopping online, the frequency and personalization of our follow-up. We needed a tech stack that made it easy to coordinate these efforts to reach our customers and put e-commerce best practices to work for our brand."
Best practices around fulfilment and delivery also became clear the more customers Santa Monica Seafood served. The brand worked hard to coordinate orders among the three options it offered three audiences:
Overnight shipping via FedEx for DTC customers.
In-store and curbside pickup for local DTC consumers.
Local shipping and delivery for corporate wholesale customers.
Ultimately, Santa Monica needed an e-commerce platform that could integrate with their ERP of choice to enable the company to deliver on the back-end warehouse management required to fill such complex orders at scale, all while providing a best-in-class customer experience that automatically provides tracking updates to the end customer along the way.
"Our business relies on being able to process thousands of orders on the fly, with different cuts for different customers," Vuong said. "We've been doing that for many years in our retail stores, but the strength of this platform, the flexibility and variety of features that are either built-in or available via third-party plug-ins, is what will allow us to bring what we do to a bigger, perhaps even international, audience."
Deploying a Headless CMS to Seamlessly Combine Content and Commerce
In an attempt to meet the needs of a new market, Santa Monica Seafood found itself with a need to educate a new audience. That is, DTC consumers didn't have the deep expertise in raw seafood that corporate wholesale customers did. Santa Monica Seafood saw the opportunity to educate customers about frozen and raw seafood from safe delivery to confident preparation to creative cooking.
"We found that a lot of our customers were afraid to try to cook seafood at home, which makes sense as it is a popular restaurant item," Chavez said. "It takes a little practice to get it right. So naturally, creating and maintaining recipes and instructions for our products has been very important in driving engagement and giving customers ideas for what to do with our products, which ultimately increased purchases."
Santa Monica Seafood was also able to add omnichannel sales opportunities through Instagram, Facebook and other social media platforms, while maintaining complete creative control over the analytics and messaging of those platforms.
"When we first started running search engine ads, we would see good traffic but very low conversions," Chavez explained. "Based on that data, I was able to add a first-purchase coupon, experiment with the wording of the ads and the landing page and tweak things until I saw the conversion rate go up and send more customers to our integrated email marketing newsletter — it was all easy to do."
Embarking on an Expedition in Ecommerce
Without a push from the COVID-19 pandemic, would Santa Monica Seafood be connecting with consumers from coast to coast? Perhaps eventually, but not for years to come.
In that way, the pivot to e-commerce and the decision to go headless have laid the foundation for incredible growth — growth that builds off the company's rich history as a B2B seafood distributor to reach into the expansive ocean of DTC.
Like any business facing the uncertainty of the market and challenges to come, building the capability to pivot and adapt to the opportunities in front of them is the most important outcome of all. Equipped with a deeper understanding of its consumer base and a robust, flexible, platform with a no-code front end to build from, the sea is the limit.